Hospital laundry facilities require careful management to maintain peak hygiene standards without forgoing speed, efficiency and operational ease of use. Of course, a lot of this falls to having the right commercial laundry equipment – including a series of hard-working tumble dryers.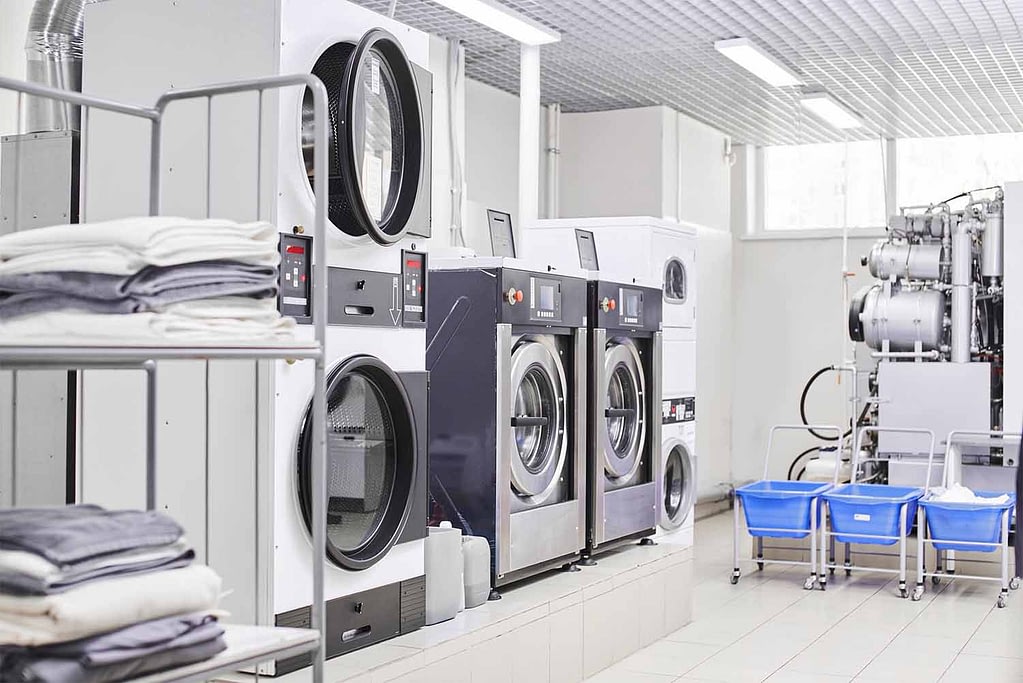 Tumble-drying garments and flatworks in a hospital setting is a unique proposition. Not only do fabrics need to be dried quickly to keep on top of high-volume load demands, but there are safety, hygiene and anti-infection protocols to consider too.
As such, this guide will offer some tips and advice on using industrial tumble dryers in a hospital, including general requirements and things to consider.
The importance of efficient drying processes
The hospital laundering cycle needs to run like clockwork, from the collection of dirty linens to the redistribution of clean, dry items back to their rightful wards. Tumble drying is just one part of this wider process chain, so it's important that this area isn't the weak link.
As soon as clean items come out of the commercial barrier washing machine, they should be fed into the tumble dryer without delay. Not only will this limit the chance of contamination, but it will also prevent any chance of mould spores – essential in a hospital environment where bacteria control is so critical.
'Dirty' and 'clean' zones to prevent contamination
Cross-contamination is one of the biggest risks associated with hospital laundry facilities. If infected and contaminated linens are allowed to come in contact with clean items, this can have huge and far-reaching repercussions, so it's essential that staff are aware of these risks and given the appropriate training to avoid such instances.
Often, people assume that having 'dirty' and 'clean' laundry zones only applies pre and post-wash, but this isn't the case. It's essential that tumble dryers are placed well within the 'clean' zone too so that dry linens can't make contact with dirty linens that are still being processed.
The need for reliable, high-capacity dryers
Even in a small-to-medium-sized hospital, the level of laundering required can be startling. Remember, items include flatworks like sheets and bedding; patient clothing and personal items; towels, cloths and other cleaning sundries; and staff uniforms, scrubs and other items that require safely washing on a regular basis.
As such, it's critical that hospital laundries are equipped with industrial-grade laundry appliances that are built for continuous, round-the-clock use. This includes JLA commercial tumble dryers, which are constructed from hard-wearing, quality materials to ensure they continue to deliver outstanding performance cycle after cycle.
The avoidance of downtime
The truth of the matter is, hospital laundries can scarcely afford a moment's downtime, so it's important that any faults with your commercial dryers are dealt with as quickly as possible.
With JLA Total Care, you'll enjoy the peace of mind of knowing that our team of engineers will be with you within eight hours when you experience a problem with your industrial tumble dryer. We'll work to get your appliance up and running again with minimal downtime, so your high-volume laundry needn't suffer any delays or setbacks.
Contact us to learn more about commercial laundry appliances for NHS and other healthcare organisations. Alternatively, take a look at our full range of commercial tumble dryers or call our team on 0808 239 6805 for more help and advice.