While hygiene is rightly a priority for businesses at the moment, the Government has also recently issued guidance to ensure all businesses are fire safe before they re-open once Lockdown 2.0 is lifted. At JLA, we can support you in all three key areas that you need to address over coming weeks – providing a full range of servicing, installation and maintenance solutions wherever you are in the UK.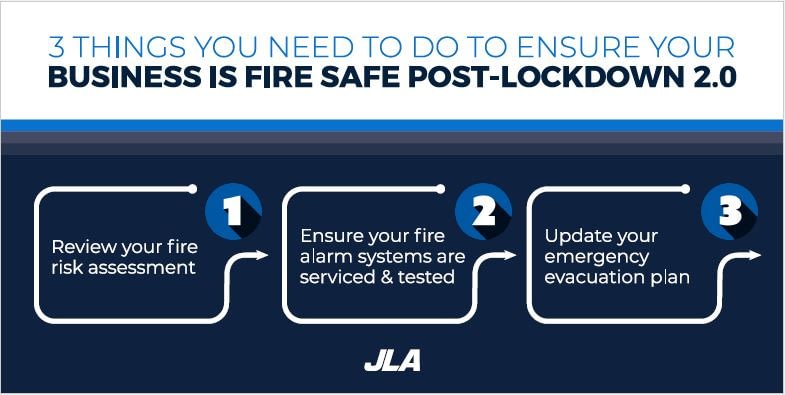 Reviewing your fire safety risk assessment
A fire risk assessment is required by law for all commercial premises – and you need a documented assessment if you have 5 or more employees. It's particularly important to review your FRA before re-opening with help from a professional partner like JLA, to ensure that it takes into account any changes to business operations during 2020.
Ensuring your fire alarm systems are tested and serviced
During the Coronavirus lockdowns and periods of restricted opening, your fire safety systems may not have been tested and properly maintained. We can check and service your alarm control panel units, call points and other parts of your – and we can provide ongoing support on your other fire equipment too with flexible ongoing service contracts.
Updating your emergency evacuation plan
Your pre-Coronavirus escape plans won't have had to take into account many factors that should now be considered as a result of Coronavirus, such as social distancing. Training is also vital part of any evacuation planning – so it's a good idea to consider this too before re-opening.
JLA Fire brings together over 100 years of fire experience through some of the most well regarded names in the industry, who are now part of the JLA family. We're proud to be in the unique position to offer certainty in the all the key areas of commercial equipment that you rely on to keep your business running – wherever you are in the UK. To find out more about how we can help with your fire safety systems, contact us for a free consultation.