A combi oven is a three-in-one oven which allows you to cook with steam, hot air (convection) or a combination of both. As an alternative to using a separate steamer or convection oven, a combi can be used to replace both appliances – saving time, space and money when it comes to professional food preparation.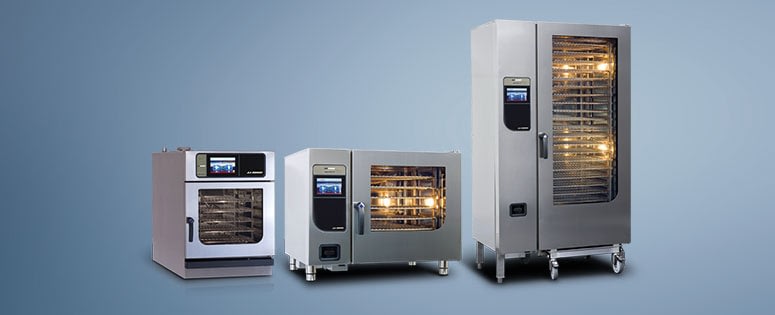 Three cooking options in one oven
A commercial kitchen combi oven allows you to choose between three different cooking options in one appliance:
Steam Cooking
Convection (dry heat) Cooking
Combination Cooking (a mixture of steam and convection)
Steam Oven Cooking
Water is injected into the combi oven for this option – ideal for cooking ingredients which might otherwise be boiled or steamed individually. 'Combi steamers' are especially good for cooking fish – a delicate ingredient that may shrink and dry out or break in a conventional range oven. And by cooking vegetables using steam in a combi instead of boiling water, you'll ensure they keep more of their nutritional value and natural colour.
Convection Cooking
When this combi oven function is selected, dry heat is circulated around the oven oven – just as you might be familiar with at home in your domestic oven. This method is perfect for finishing all types of food including breads, pizzas and pastries, or for searing meats at the beginning of the cooking process.
Combination Cooking
This allows you to have the 'best of both worlds' for high volume cooking, and is what sets combi ovens apart from all other pieces of catering equipment available. Both dry heat and steam are used together and an automatic mode ensures the right levels of moisture for the food you're cooking. This means you can cook at higher, 'more humid' temperatures for less time, without the risk of burnt edges or shrinkage.
Combi oven features at-a-glance
Unrivalled climate control
Manufactured in Germany
30% more efficient than a standard range oven
1/3 more capacty than the leading competitor
Automatic 'Waveclean' cleaning system
MagicPilot 'touchscreen' control panels
Autochef – pre-saved cking processes
FlexiRack capacity
Automatic quantity detection
Time2Serve alarms
Our favourite combi oven functions
The most useful combi oven feature is climate control. This is the ability to adjust the moisture levels which is the primary reason why the combi was invented. The use of climate control by cooking with steam provides quicker cooking times as the steam penetrates the food more rapidly than a traditional oven and leaves the food in better condition. This minimizes the chances of dry food, or even worse, burnt.
Another key JLA combi oven feature is the MagicPilot system, a simple touch and slide operation on the appliance's main function screen. The MagicPilot system is easy to use and is similar to using the technology of a modern smartphone. This feature is precise and allows for automatic cooking using the autoChef with a simple touch of the screen.
You can also benefit from the WaveClean function, an automatic cleaning system which provides for energy-efficient use. It's worth pointing out that Waveclean tablets are provided 'free for life' as part of our Total Care package.
JLA offers Development Chef training and support as part of our Total Care package, including multiple visits to your site and teaching anyone using the combi oven all of the available features, this can even be tailored to your menu. From cleaning to safety to advanced operation, we give you the full training.
What can you cook in a combi oven?
Meat
Up to a third of the weight of a cut of meat can be lost during traditional roasting, as all the product's natural moisture is effectively dried out. Having a gentle steam flow in the oven will minimise shrinkage and weight loss leaving your customers or residents to enjoy a more tender and 'fuller' joint.
A 3kg chicken conventionally takes around 2 hours to cook, in a combi oven that is set correctly with the appropriate amount of moisture, this reduces to around 45 minutes. The climate control feature grants the ability to cook all kinds of products all at once (roasted vegetables, potatoes and meat together).
Fish
Steaming is well-suited to cooking fish dishes because it will help maintain the delicate flavour and key nutrients with the added benefit of minimal shrinkage. The injection of steam means the product will not dry out and break. Innovative technology means the oven knows exactly how much steam to inject for the food you are cooking.
Vegetables
By cooking your veg in steam rather than boiling it, broccoli, carrots, new potatoes and other popular sides will keep more of their nutritional value and natural colour – important whether you're cooking in a care home, hotel or professional restaurant kitchen.
Breads, pies & pastries
Working as a fan oven, in the 'convection' mode, a combi can achieve a crisp finish and bake things evenly with no burnt edges. The injection of steam ensures the inside of the food remains moist and tasty, just as it should be.
Day-to-day benefits of a combi oven
A combi oven has lots advantages for busy commercial kitchens, from efficiency and cost savings to consistency and quality:
Consolidate your kit – add 'multi-function' versatility to your kitchen.  A combi oven is not just about dry heat and steam, it can do the work of the vast majority of appliances in a typical kitchen including; the fryer, griddle, chargrill, convection oven, steamer, Sous Vide, and many more. Saving you precious space and money.
Cook with more flexibility – whether you want to cook the same dish for lots of people or need the flexibility to serve small portions of different meal types at the same time, a combi oven puts you in complete control. Ideal for premises large and small.
Save money – with faster cooking times thanks to an energy efficient engine, your bills will come down in no time at all. The 'combination cooking' method ensures food does not dry out and shrink your food, giving you more portions for your pound and making combi ovens a sound investment for the future.
Make life easier for staff – your kitchen team will love it too. A combi oven supports your chef in creating consistently high quality food, while pre-programmed or self-programmed cooking processes ensure the same dishes are cooked to the same standard again and again. Great if staff rotes change frequently.
You may come across a number of combination microwaves when doing your combi oven research. While these work in a similar way (combining regular microwave functions with some oven 'grill' and 'fan cooking' features), these are much more 'domestic' and small-scale than the professional combi oven you'll need for larger commercial catering challenges.
JLA combi ovens feature a unique wider-capacity cooking chamber with a flexible rack arrangement allowing you to get more ingredients in the oven to help you cover busy service periods. The smart humidity and temperature sensors ensure every meal turns out perfectly.  Complete with intuitive controls based on smartphone technology, and helpful instructional videos on the oven itself, JLA's range of combi ovens are ideal whether you're an experienced chef or a combi novice.
JLA Gourmet Full Size Combi Ovens
Our market leading Gourmet combi oven offers innovative features to support kitchens large and small, and enables chefs either highly skilled or new to the trade to create amazing food, consistently.
Ask our experts about the JLA Combi Oven Total Care option, which gives you the appliance you need plus 7-day breakdown cover in an 'all-inclusive' package – for a simple monthly payment.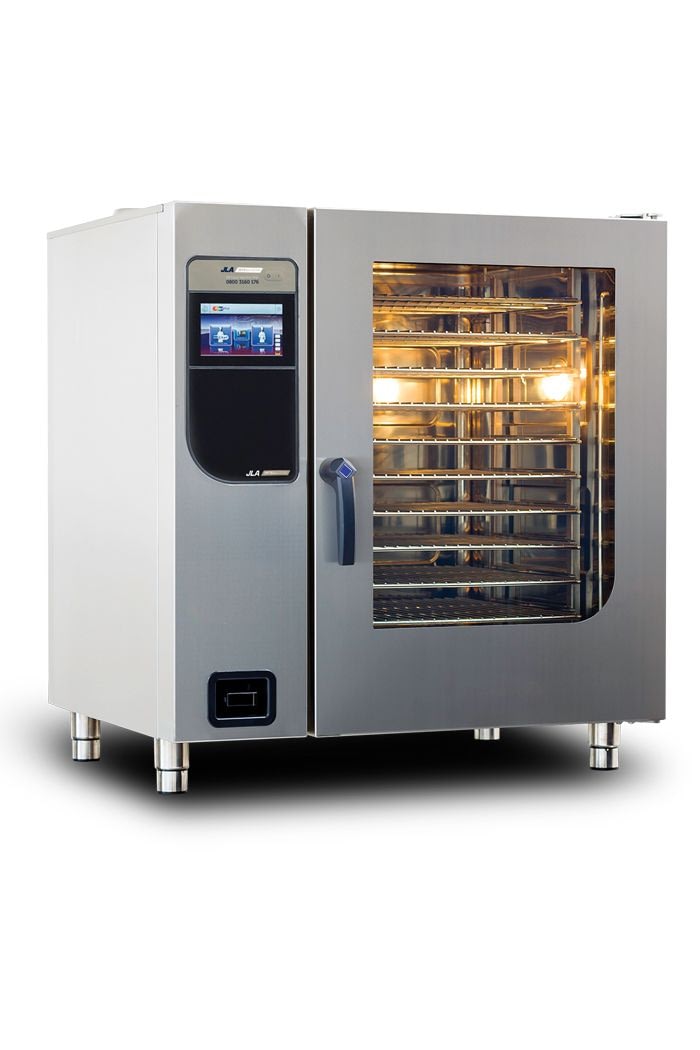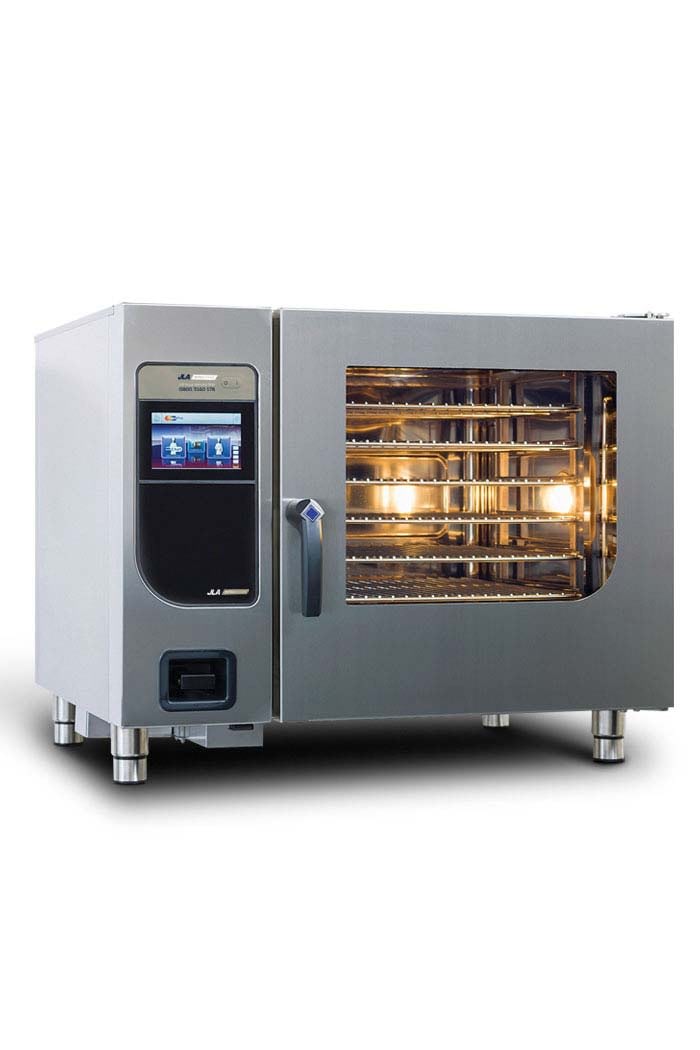 JLA 'Compact' Small Combi Ovens
A JLA Compact combination oven is the perfect solution for businesses who want high performance cooking features, but have limited space. With a footprint that's 40% smaller than a standard combi oven, you'll still be able to take advantage of all the amazing features of our larger Gourmet combi ovens.
As with any part of commercial kitchen design, it's important to ask an expert who can advise on layouts, workflows, regulations and maintenance. Our team can help you make informed choices, and find the best commercial catering equipment for your specific needs.