Commercial washing machines are known for their heavy-duty capabilities for cleaning laundry. Due to the nature of continuous washing, commercial laundry rooms naturally face the likes of infected linens, potentially contaminated work surfaces, multiple staff handling and a variety of detergents and chemicals so it's easy to see how quickly they can become a holding area for bacteria.
To ensure optimum hygiene in your facility and for your appliances to work as effectively as possible, they need a regular cleaning and maintenance schedule.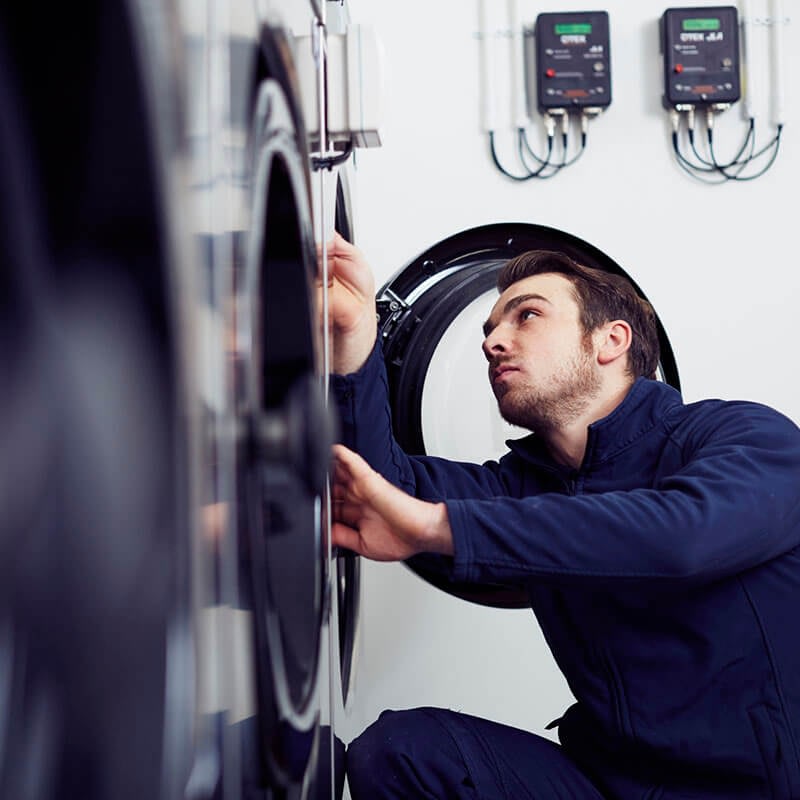 How to clean a commercial washer
• Ensure the power is turned off before cleaning
• Remove any debris or dirt from the washing machine's exterior
• Wipe down the washing machine's drum, seals and gaskets to ensure there is no build up of detergents or bacteria. Do this with a soft cloth to reduce the risk of tears in the appliance
• Run an empty hot water cycle
• Ensure the machine's door is left open after the cycle is complete to help air it out and remain fresh
How often should a commercial washing machine be cleaned?
• A weekly hot wash is recommended to ensure all bacteria is removed from the inside of the washing machine. This may be required more frequently for machines regularly dealing with soiled materials
• The exterior of a washing machine should ideally be wiped down after each cycle to ensure clean laundry doesn't come into contact with dirt upon unloading
• Inlet filters require checking and cleaning after every few cycles so they are not filled with dust and fluff. If blocked, the water efficiency to the machine will be reduced, causing the wrong water usage levels to be calculated, increasing utility costs
• Airing out washing machines by leaving the door open after each wash can help keep the drum dry, reducing the chance of mould and mildew building up inside
• A maintenance schedule is recommended for your team to check the condition of inlet and outlet hoses and belts for cracks, wear and tear
Can commercial laundry equipment be serviced?
Yes. If you need a helping hand, we provide a complete solution for businesses which rely on laundry equipment including hotels, care homes and hospitals.
As part of the JLA Total Care package, we provide service contracts for professional laundry equipment to include:
• Maintenance and repairs – including regular servicing, emergency repairs and replacements of parts as needed
• Training and support – assisting your staff to ensure they know how to use the equipment effectively and safely including a 24/7 customer support line to answer any questions or concerns
• Chemicals – we can provide advice on which laundry chemical will help you get the most out of your machines equipment, including detergents, softeners, and stain removers
Talk to our laundry experts today to find out more about JLA's Total Care package.