If you're setting up a new commercial laundry from scratch, then you may be struggling to decide which pieces of equipment meet your needs. This is particularly the case if you need to meet infection control guidelines. To help you work out which machine types and capacities you require, we've put together this commercial laundry equipment guide.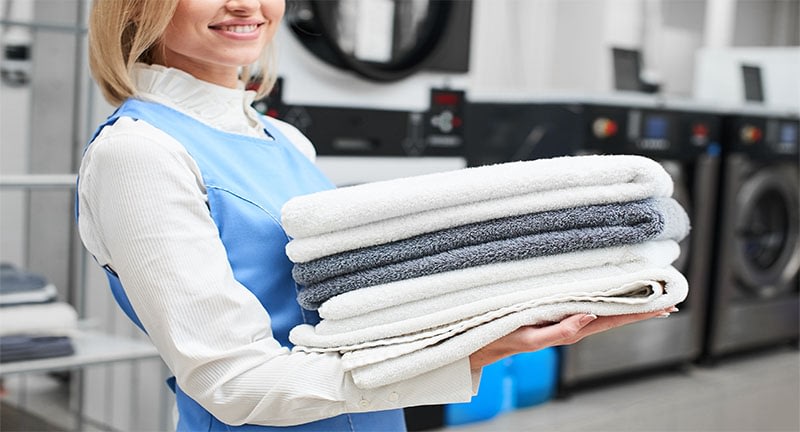 As well as discussing which washing machines are best, our commercial laundry guide will also provide advice relating to dryers and finishing equipment. So, read on to find out how to choose commercial laundry equipment for your business.
How to choose commercial laundry equipment: Care homes
We understand that caring for your residents is your biggest priority. Thankfully, using our decades of experience, we've developed our OTEX laundry disinfection solutions, which are perfect for care homes. 
These machines remove all traces of coronavirus, as well as 99.999% of other harmful micro-organisms. They also provide disinfection receipts to prove disinfection has taken place. 
In a care home setting, you will require a barrier washer. These machines are designed for bulky loads and contain separate loading and unloading areas to ensure clean and contaminated linens never come into contact. These washing machines should be combined with our class-leading industrial tumble dryers, which have been designed to cope with even the largest and bulkiest items (such as duvets and sheets). 
If you're running a care home laundry room, you should also consider whether our automatic medical macerators are appropriate for your needs. These machines provide you with a fast, cost-effective and hassle-free alternative to manual sluicing. They also eliminate the risk of wide-area contamination.
In hospitals and healthcare settings, OTEX laundry systems are vital for preventing outbreaks and keeping linen fresh. Plus, they are also ideal for hospital staff who want to be sure that their staff uniforms, towels and microfibre mops are thoroughly disinfected. As a result, these machines also greatly reduce the transmission risk of healthcare-acquired infections (HCAIs).
For your hospital laundry room, you should select a barrier washer. These machines prevent clean and contaminated linens from coming into contact. They also help you meet national healthcare standards. 
As with care homes, industrial dryers are also important pieces of equipment. Due to the volume of washing and drying you'll need to complete in the setting, we recommend choosing the largest washing machines and dryers available. The dryers you choose should be fitted with SAFE technology and should feature a tilt function, so it's easier for staff members to load or unload bulky items. Again, you should also consider the role macerators could play in preventing contamination.
We recommend that football clubs use our SMART washers to produce match-winning results. Not only do these machines produce the best possible finish time after time, but they also use less energy. Alongside your washer, you should also select a commercial dryer that matches your usual load size (our capacities range from 5kg to 310kg).
In an environment such as this, we know just how important results can be. For this reason, as well as selecting the right washers and dryers, it's also vital that you purchase the right finishing equipment, including irons, rotary irons and ironing tables.
Did you know that over 70% of the UK's laundrettes and dry cleaners trust JLA to supply and look after their critical equipment? 
If you're running a commercial laundrette, then our coin-operated washing machines and tumble dryers are the perfect solutions. These impressive pieces of machinery are available in a variety of drum capacities and have been designed to help you maximise revenue in your launderette or managed laundry. Plus, thanks to features like speedy spin cycles and eco options, they can also save you money on your utility bills.
These coin-operated washing machines and tumble dryers are also the ideal solutions if you're providing university accommodation or running a holiday park. Not only can these machines help your guests meet their laundry needs, but they can also provide you with an extra revenue stream. 
In these circumstances, if you only have a small laundry room available, then we recommend that you look at our stackable washing machines and dryers. This way, you can maximise throughput without taking up extra space. You can stack our washing machines in washer-dryer and dryer-dryer combinations.
Although the laundry capacity of pubs and restaurants is often not seen as a pressing concern, it's vital that your hospitality setting has the right washers and dryers in place so that it can effectively clean table linens and napkins. 
Domestic washing machines cannot cope with the laundry demands of a pub or restaurant. For this reason, they won't provide the quality of finish you need and will regularly break down. As a result, commercial washing machines are a much better solution. 
That said, depending on the size of your establishment, you may find that semi-professional models that are the same size as domestic variants will provide you with the finish you require. If you run a larger establishment, you'll need something more substantial. 
As well as selecting a commercial washing machine for your pub or restaurant, you will also require a commercial dryer. On top of this, you should also consider purchasing finishing equipment. This way, your table linens will always be perfectly presented.
Vets must be sure that their bedding, blankets and linens are hygienic so that pets remain happy and healthy. By choosing an OTEX laundry disinfection solution, you can reduce cross-infection risks and improve hygiene in your veterinary surgery. 
As well as choosing a washing machine that can disinfect bulky items like pet bedding and blankets, you should also choose a SMART dryer. These impressive machines feature auto-dry programmes that reduce drying time. Plus, these dryers also feature SAFE technology, which will protect your premises, people and animals from dryer fires.
Hotel managers and spa owners will also benefit from our OTEX laundry disinfection solutions. This is because not only will hotel managers enjoy improved hygiene standards, but spa managers will enjoy cheaper utility costs and will be able to provide clean, soft and fluffy towels and bathrobes to guests.
Here at JLA, we work with over 3,000 hotels and spas across the UK. As a result, we can help you find the perfect solutions for your laundry room. In these scenarios, we believe our OTEX laundry systems are perfect because they can make your linens last longer, reduce your carbon footprint and kill 99.999% of viruses and bacteria. However, if you believe these systems aren't right for your needs, then take a look at our SMART washing machines, which are available in a range of drum capacities. 
You should also choose a commercial tumble dryer that suits the size of your premises. Here at JLA, we cater for all usage levels and our capacities range from 5kg to 310kg. While large hotels will benefit from a machine with a vast capacity, smaller spas may prefer a more compact option.
In an education setting, children will regularly bring in mucky clothes and dirty items. Others may have accidents and some may even be ill. Due to these circumstances, schools must have adequate laundry facilities in place. 
While schools will likely only require a domestic-sized commercial dryer with a 7kg-8kg capacity, they will benefit from an OTEX laundry system. These machines can stop outbreaks occurring and can help schools save money on utility bills. 
Prisons require commercial laundry equipment to ensure everything runs like clockwork. Our wing laundry facilities have been designed with compliance and capacity in mind. So, regardless of whether you have a small prison population or you're running a large facility that requires round-the-clock washing and drying facilities, we can supply everything you need. 
In these settings, we recommend our OTEX laundry systems, which can also prevent outbreaks in the prison population and can keep both prisoners and wardens alike safe. 
We hope this commercial laundry guide has provided you with all the information you need to make an informed buying decision. However, if you'd like to learn even more or have a specific question about any of our pieces of laundry equipment, talk to our laundry experts today. Whatever your business needs, we have a solution.